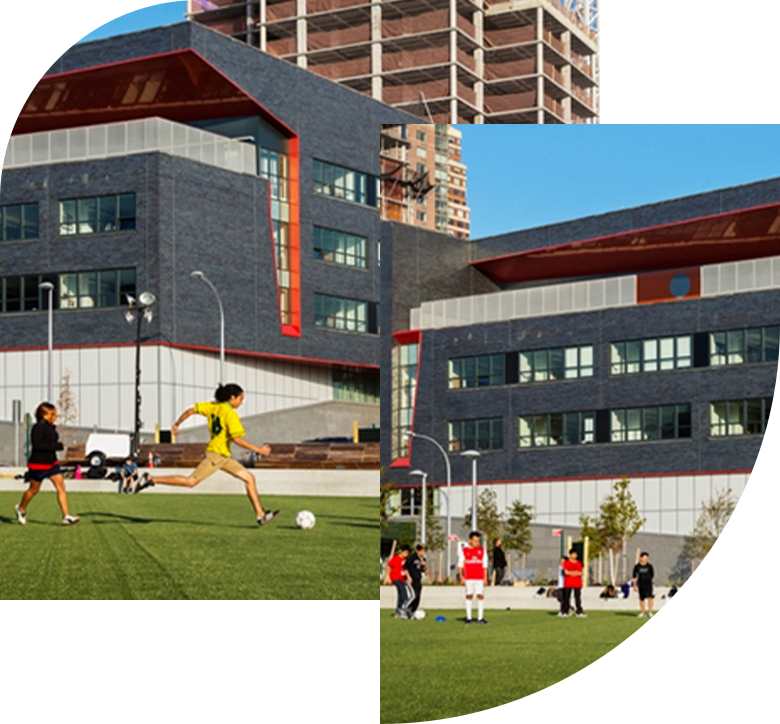 TvF is located in the top two floors of the unparalleled and newly built Hunters Point Campus in Long Island City, Queens. Its waterfront location--not to mention the spectacular sight of the sprawling Manhattan skyline--provides the perfect background for student films as well as inspiring views from our classrooms.
Completed in 2013 at over 145,000 square feet, the campus includes a gymnasium, an auxiliary gym with cardio and weight-lifting equipment, boys and girls locker rooms, an open library with an attached computer lab, two diner-style cafeterias (with access to a large terrace overlooking the East River and Manhattan), and a high-tech auditorium. All TvF classrooms are equipped with new furniture, Wi-Fi access, and SMART Boards. To support its CTE program in TV and film production, there are a range of specialized rooms designated for industry-aligned and hands-on student learning: (3) fully-equipped soundstages, a set construction wood shop, (2) editing suites and an editing lab, a prop room, a wardrobe, a sound mixing and design studio, and a production office.
With a 1:1 ratio of students to computers and a deep belief that students should have access to cutting edge technology to support their work both in and out of classrooms, it's no surprise that TvF invests much of its resources in technology and production equipment. Through the innovative use of technology to meet both instructional and administrative challenges, TvF makes it possible to achieve the highly ambitious goals around which the school was founded. Computers and laptops are available to students at all times, and are equipped with professional software programs to support the CTE program in production, such as Adobe Suite (Photoshop, Illustrator, Dreamweaver), Final Cut Pro, AVID, and Pro Tools. As developing video professionals and filmmakers, TvF students also have access to over $1,000,000 worth of professional production equipment to support their career preparedness and their acquisition of the technical skills needed for real-world jobs in the industry. Most of this equipment is available for students to borrow for independent projects outside our campus as well.
Hunters Point is the southwestern area of Long Island City located along the East River only one subway stop from Midtown. This safe, residential neighborhood has become a staple Hollywood backdrop for NYC-based production sets. Western queens also houses some of the largest and most prominent production studios, including Kaufman Astoria Studios and Silvercup Studios, which makes the commute to after-school internships very convenient for TvF students!